Old Scottish Flute Music
Now available: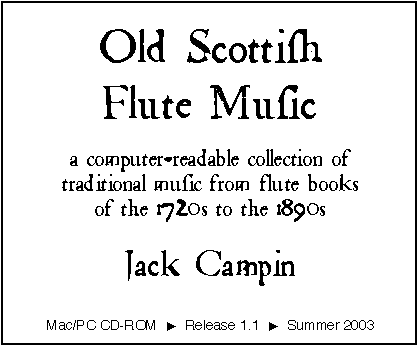 The repertoire of Scottish flute players when the flute was a central instrument of the folk tradition, from the 1720s to late in the 19th century. Every kind of traditional music from simple dance tunes to wild variation sets, all taken from sources unavailable for more than 150 years, from soldiers' manuscripts to rare printed collections.
Available on a CD-ROM:
270 tunes: reels, jigs, marches, strathspeys, hornpipes, waltzes, slow airs, variations, duets, tunes with bass line accompaniment
includes a complete Scottish regimental repertoire from 1813
every tune in ABC notation, QuickTime and MIDI sound files, and both tall and wide format staff notation GIFs
computer-playable; you don't need to read music to use it
fully accessible to blind users
print sheet music as you need it
works with any web browser; no Internet connection needed
detailed notes and bibliography
six fingering charts taken from Scottish books and manuscripts
hyperlinked tune index
for Mac, Windows and Unix
Price £9.50 (payments by cheque or cash only), or the equivalent of £11.00 in Euros or US dollars (cash only) - this is higher to allow for airmail to Europe, Australasia or North America.
An example of the formats the tunes are provided in. This is a flute duet arrangement of the song or strathspey Nae Luck About the House, from a manuscript in the National Library of Scotland (MS.21733) which was compiled by at least three different people starting around 1820; they added tunes to it over a period of twenty years, and this was probably one of the last tunes entered. Separate sound files are given for each part so you can play them as "music minus one" or learn them by ear.
I don't include facsimiles of the original sources (it would be far too expensive). But to show you what they look like, here's a facsimile of the manuscript page for this piece (168K) - it's of average readability as Scottish tune manuscripts go.
Almost all of the tunes are for the one-key flute (all the fingering charts are for it). Many of the tunes go up to the second D above the staff, which is easy on a flute but beyond the normal folk-fiddle range - some have been deliberately selected to be as fiddle-unfriendly as possible. Most will work on the whistle, if you can get it to play that high (narrow-bore whistles usually will) or on a descant or tenor recorder. A few tunes go much higher, where only a flute can go. One vast variation set needs a low C.
Complete list of the tunes included. Some occur more than once where the settings are very different; I've done this to show how many different interpretations of the same basic ture are possible.
---
f l u t e @ p u r r . d e m o n . c o . u k

Jack Campin
11 Third Street
Newtongrange
Midlothian EH22 4PU
Scotland

phone 07800 739 557



---





Also available on CD-ROM: Embro, Embro: the hidden history of Edinburgh in its music,
a social history of Edinburgh as seen through the music it created, with
750 tunes, 250 songs, and a historical commentary that deflates Edinburgh's
official pretensions with unprecedented ruthlessness.



Coming later in 2003:
Aird's Airs, a CD-ROM edition of
the 1200 tunes published by James Aird of Glasgow in his six tunebooks between
1778 and 1801.



---





Jack Campin's Home Page: http://www.campin.me.uk